What Is Bluetooth?
Bluetooth is a short-range wireless communications link. AltimeterThree uses it so that you can control AltimeterThree with your phone or tablet. Almost all phones and tablets have Bluetooth, though you may need to turn it on in Settings.
The range of Bluetooth varies depending on which way things are pointing and what's in the way of the signals. But in general, it's about 30 feet. As you use AltimeterThree during flying, you'll lose connection as AltimeterThree flies away. That's normal. It should reconnect when it gets closer.
What Is Pairing?
Before you can use your AltimeterThree with any phone or tablet, you'll have to "pair" it. Pairing gives permission for the altimeter to communicate with your mobile device. Unless you "unpair" your altimeter, you only have to do this once.
Important: Your mobile device and your altimeter must BOTH give permission for pairing. In this process, you're going to press a button on your phone/tablet AND the button on the altimeter within 20 seconds of each other.
Steps to Pair
Œ1. Turn on AltimeterThree (it should say it is searching)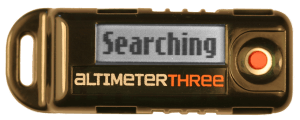 2. On your mobile device, go to Settings > Bluetooth and turn Bluetooth ON
3. You should see a list of nearby Bluetooth devices (in Android™, you may need to press Search for Devices)
In Android: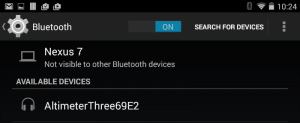 In Apple: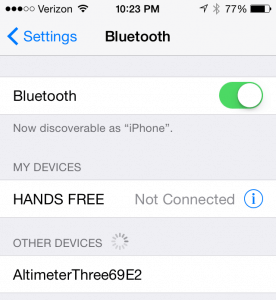 4. Click on the name of your altimeter in the list of available Bluetooth devices. You should see a popup that asks for permission to pair:
Android: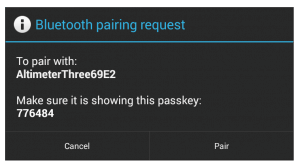 Apple: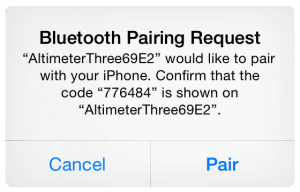 5. Approve the pairing on your mobile device AND CLICK THE BUTTON ON THE ALTIMETER within 20 seconds: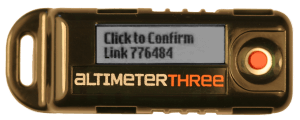 If pairing is successful, AltimeterThree will show that it is connected, and your phone/tablet will list it as one of your paired devices in Bluetooth Settings.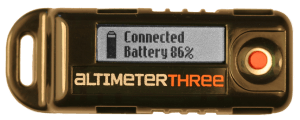 Problems?
If for some reason you get "stuck" on a step, or pairing appears unsuccessful (one device says "Connected," the other doesn't), follow these steps to start over:
1. Hold down the button on the altimeter until it says "Resetting"
2. If your mobile device shows the altimeter as "paired", click the "more info" link and unpair it
3. Turn off Bluetooth on your phone/tablet, and start the Steps to Pair from the beginning.